Coding as Enrichment: Three Effective Strategies for your Ed Tech Classroom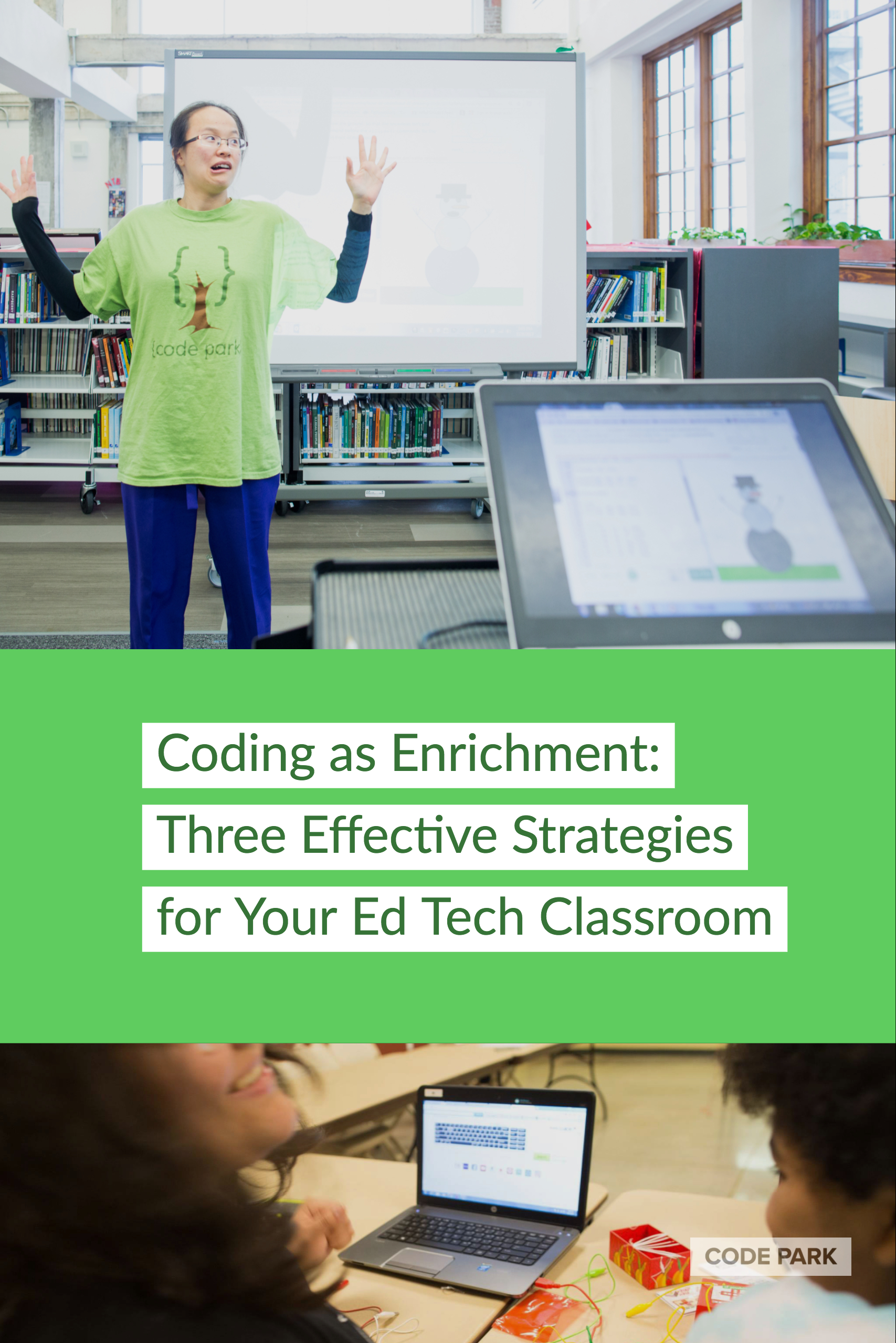 For ten weeks, Code Park piloted an after-school Creative Coding program at Baker Ripley Leonel Castillo Community Center. By the end of the program, our students became creators of technology rather than consumers. Rather than browsing a website on a smartphone, students were empowered to build that website.
We focused on Coding as Enrichment by encouraging our students to make art, animation, and stories. Instead of traversing a programming language's syntax peculiarities, our students drew colorful lines, made interactive buttons, and shared their creations.
We employed these three key strategies in our learning environment to help bring about positive change in students' attitudes towards coding and technology.
ONE: provide a Positive and Collaborative Learning Environment
We provided a positive and collaborative learning environment. Technology education for coding is different from a traditional classroom experience in that there is no "right" answer. Making mistakes is how students learn coding, and we want to encourage our students to make mistakes faster and iterate to success. Our students were encouraged to learn by making mistakes and exploring his or her own interests. In the process, we just happened to facilitate knowledge in coding, problem-solving, electronics science and working and communicating with others.
TWO: Build Engaging Projects
Our students found success in computer science by building projects using Scratch, p5.js and the MakeyMakey. Variables, loops and JavaScript don't seem intimidating when they're used to explode giant emojis, frogs and cars on the internet! Students solved problems by drawing ideas and pictures in their design notebooks to be replicated on the computer.
THREE: Foster Creativity with Arts
When it comes to technology, the arts can be an unusual pathway to success. But we know and see that creativity is the secret sauce that inspires the next generation of diverse and passionate students. This moment of happiness below shows that Code Park's Creative Coding Program was a rewarding experience for everyone involved.

We faced and overcame many challenges. Sign up for our newsletter to receive updates about our process and curriculum.
Tools of the Trade — what software and hardware we used and why.
Classroom Set Up — how to provide a positive and encouraging learning environment.
Best Practices for Tech Educators — why we are learning facilitators.
Open Source Creative Coding Curriculum — open-sourced curriculum to be used in your own classroom!